CHECK OUT WHAT EXCLUSIVES CREATIVE ENTERTAINMENT IS BRINGING TO FIVE POINTS!
TOMMY 3 VARIANT COVER – AMAZING MERCHANDISING COVER
The story of a little boy with an imaginary friend … who happens to be a SERIAL KILLER! CONCLUDES! Here is the thunderous conclusion to the series, without very thin-veiled attempt at cashing in on the variant parody cover with this almost slanderous copy of Amazing Fantasy 15! Get it, and have signed by series artsit and creators John Ulloa and Juan Navarro @FWACATA
TOMMY model kit – JACK TRIUMPHANT
Standing over 7 inches tall, this Creature ingenuity at it's best! From the pages of TOMMY a story about a little boy with an imaginary friend, who happens to be a serial killer, molded by the talented eye and hand of Daniel Dulitsky, we made a bad ass model kit showing Jack towering over the defeated Teddy, in all his monstrous form! Unpainted disassembled kit comes with a certificate of authenticity, signed by the maker, and the creators of the series and is a con exclusive!
PICTURED IS PAINTED by series Creator Juan Navarro @FWACATA
Creature Art Card packs 2017
A convention exclusive, these collectible art cards feature work by Daniel Dulitsky, Jose Varese, Juan Navarro, Patrick Reilly and more, for you to collect! From sketch to full color, signed, and even the chance of a real art card!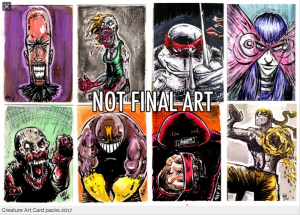 Creative Entertainment will also be unveiling Ravenous issue 3, long awaited at the show!